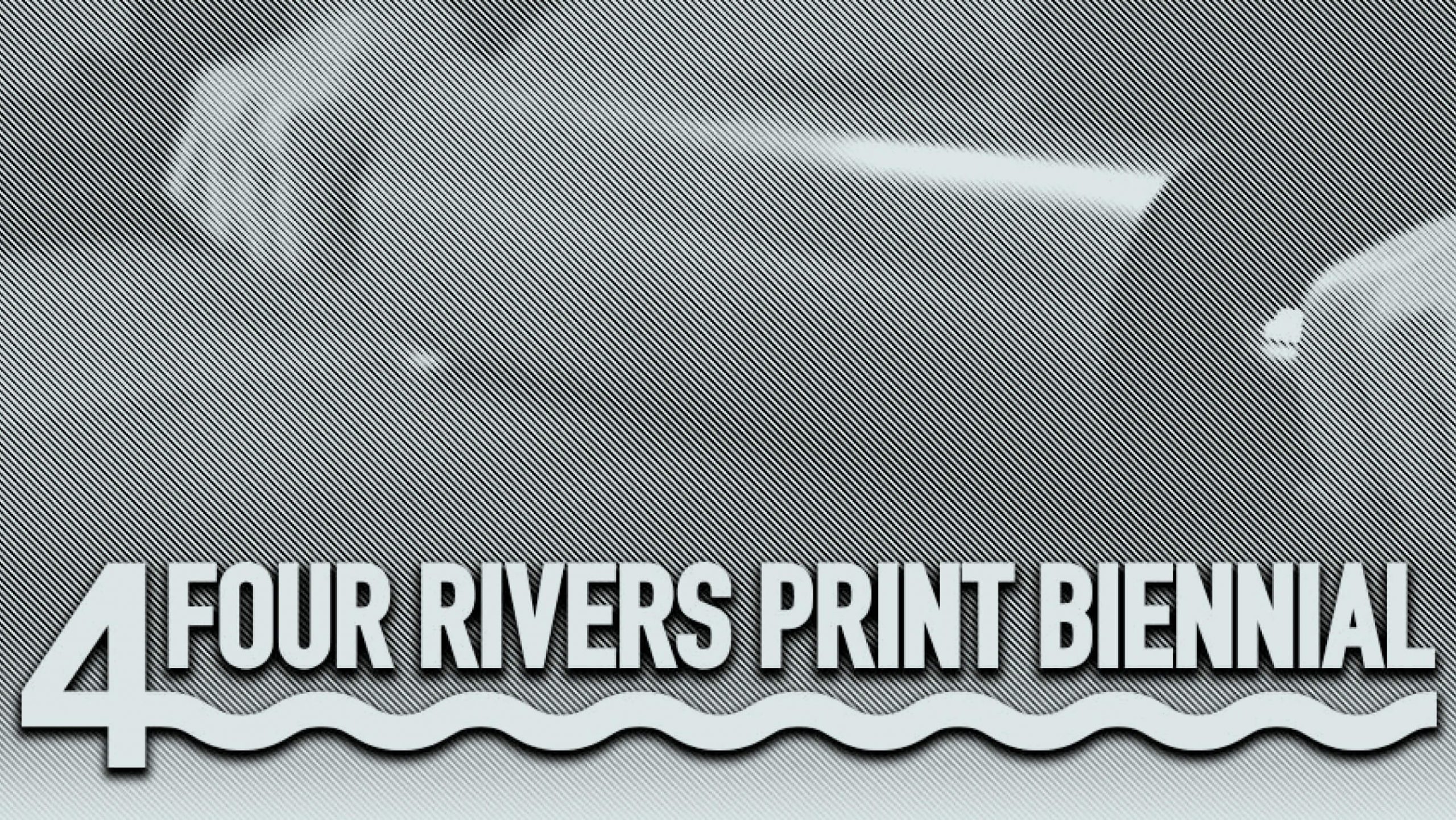 Four Rivers Print Biennial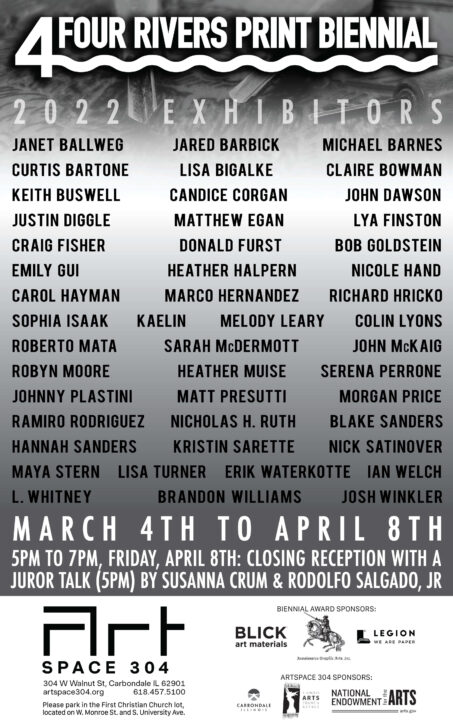 Southern Illinois is located in the heart of the largest watershed in the contiguous United States. Bordered by the Mississippi, Missouri, Ohio, and Wabash rivers, it is also surrounded by regions rich with the traditions of fine art printmaking. Much like the convergence of waterways, the Four Rivers Print Biennial acts as the confluence of contemporary prints by artists from across the country.
The jurors for the 2022 biennial are Susanna Crum and Rodolfo Salgado, Jr. Together they run Calliope Arts Printmaking Studio and Gallery, work with artists within local and national communities, and care for chickens, a garden, and a 19th-century live/work property in downtown Louisville, Kentucky. As River City Tintype, Rodolfo makes photographs on metal and glass with the 170-year-old method of wet plate collodion photography. Susanna is Associate Professor of Fine Arts – Printmaking at Indiana University Southeast. Both have been recipients of the Great Meadows Foundation professional development grants and recent artist residencies at Kunstarhuset Messen, Ålvik, Norway; Edinburgh Printmakers, Edinburgh, Scotland; and Kala Art Institute, Berkeley, CA. They met in 2009 while pursuing MFA degrees in printmaking at the University of Iowa, Iowa City, IA, and moved to Kentucky after receiving their degrees in 2012. Crum and Salgado will offer a lecture at 5PM on Friday, April 8th, followed by the closing reception for the exhibit.
The forty-seven artists selected for the 2022 Four Rivers Print Biennial hail from across the United States:
Janet Ballweg (Bowling Green, OH); Jared Barbick (Fresno, CA); Michael Barnes (Saint Charles, IL); Curtis Bartone (Savannah, GA); Lisa Bigalke (Kenosha, WI); Claire Bowman (Cincinnati, OH); Keith Buswell (Lincoln, NE); Candice Corgan (St. Charles, MO); John Dawson (Mesa, AZ); Justin Diggle (Salt Lake City, UT); Matthew Egan (Greenville, NC); Lya Finston (Danville, PA); Craig Fisher (Toledo, OH); Donald Furst (Wilmington, NC); Bob Goldstein (Carrboro, NC); Emily Gui (Crockett, CA); Heather Halpern (Eugene, OR); Nicole Hand (Almo, KY); Carol Hayman (Austin, TX); Marco Hernandez (Wichita, KS); Richard Hricko (Philadelphia, PA); Sophie Isaak (Arlington, MA); Kaelin (Bloomington, IL); Melody Knight Leary (Norwich, CT); Colin Lyons (Binghamton, NY); Roberto Torres Mata (Madison, WI); Sarah McDermott (Huntington, WV); John McKaig (Williamsport, PA); Robyn Moore (Wellington, KY); Heather Muise (Greenville, NC); Serena Perrone (Stone Mountain, GA); Johnny Plastini (Fort Collins, CO); Matt Presutti (Milwaukee, WI); Morgan Price (Bloomington, IL); Ramiro Rodriguez (South Bend, IN); Nicholas H. Ruth (Rochester, NY); Blake Sanders (Cape Girardeau, MO); Hannah March Sanders (Cape Girardeau, MO); Kristin Sarette (Eugene, OR); Nick Satinover (Murfreesboro, TN); Maya Stern (Syracuse, NY); Lisa Turner (Bellingham, WA); Erik Waterkotte (Charlotte, NC); Ian Welch (Columbia, SC); L. Whitney (Valley City, ND); Brandon Williams (Easton, PA); and Josh Winkler (Saint Peter, MN).