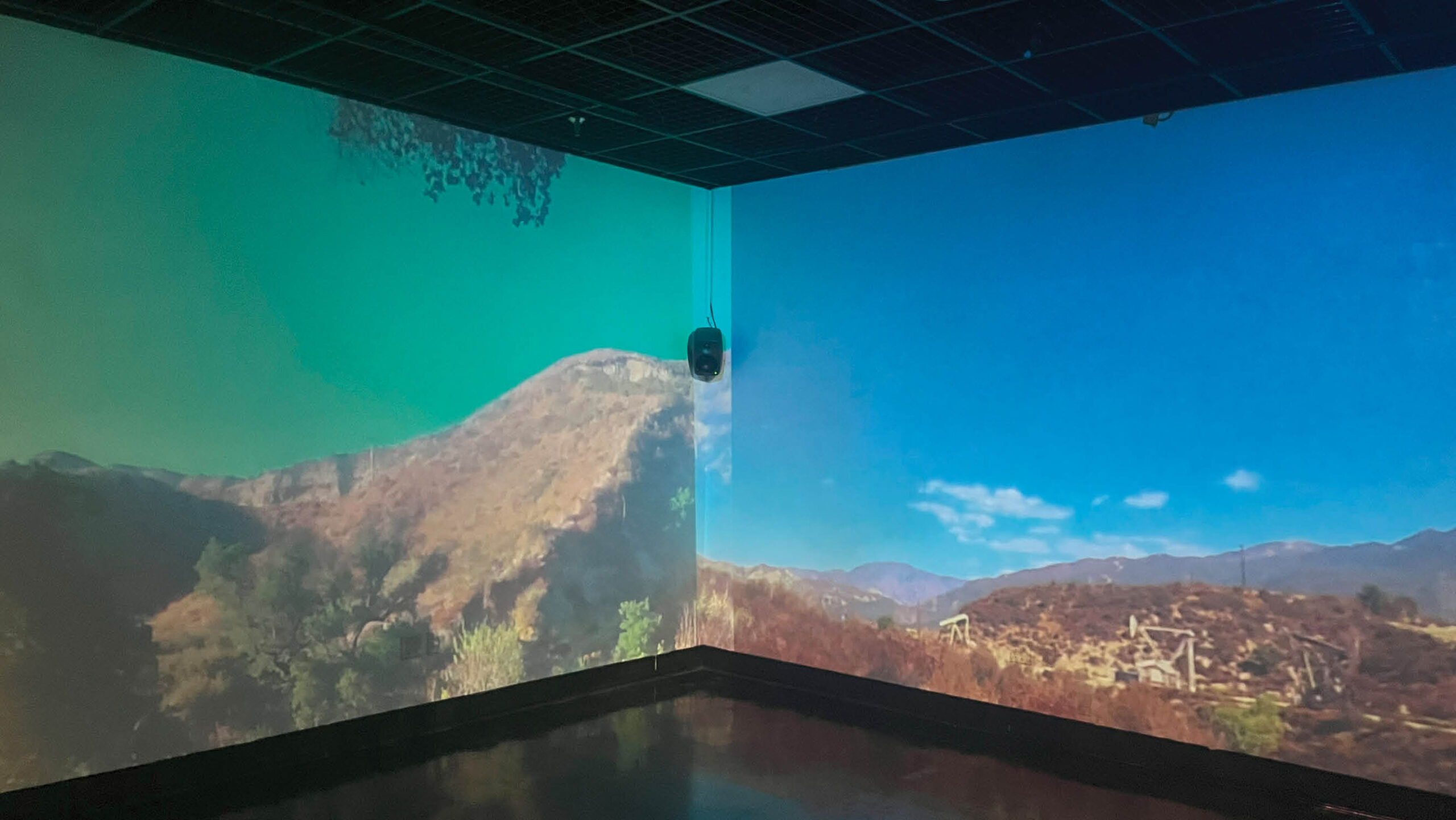 Confluence Hymn : Listening to Little Egypt's Rivers by Nick Ginsburg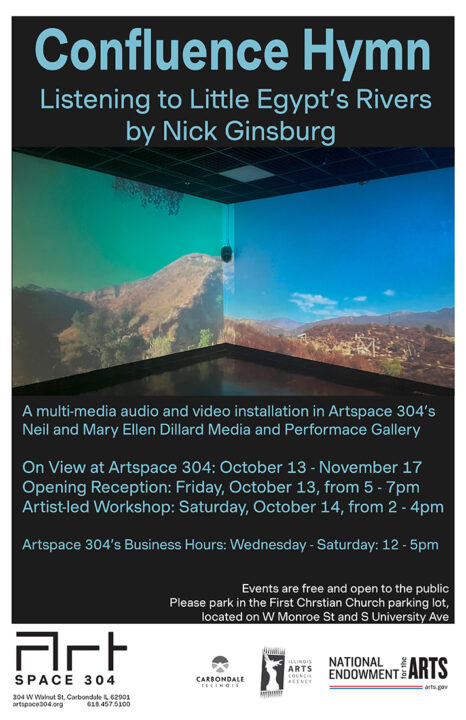 Confluence Hymn : Listening to Little Egypt's Rivers by Nick Ginsburg is on view in the Neil and Mary Ellen Dillard Media and Performance Gallery from October 13 to November 17. Confluence Hymn is a audio-video installation exploring the ecologically and sonically distinctive river environments of southern Illinois on the Ohio and Mississippi rivers. Join us Friday, October 13 for an opening reception from 5-7 pm and the following Saturday, October 14 for an interactive workshop with the artist. 
The workshop will take a closer look into the artist's processes & influences for the making of Confluence Hymn. Paired with a brief discussion on how we can learn about our local environments through field recording & sound maps, participants will have the chance to co-compose a sound map of Carbondale using recordings of iconic local soundscapes. Attendants are encouraged to bring in audio files of their own recordings or make phone voice memos of interesting sounds they find around town!
From the artist : "Most of our 21st-century engagements with these mighty rivers reduce them to passing geographical features or state-border markers. In reality, these rivers provide a dramatic geographical demarcation of our distinct region; frame the unique ecological makeup and topography of one of the most biodiverse regions of the country; and as nexuses of ecological processes, economic activity, and human interfaces, are necessary to engage with as local conduits for pressing issues surrounding global environmental change. The viewer-listener will have the opportunity to compare and contrast the unique environments, over time seeing how they converge, grow apart, and come back together again."
About the Artist:
Nick Ginsburg (they/them) is a multi-instrumentalist, composer, sound artist and teacher born in southern Illinois. Trained as a classical & new music French horn player, they are interested in how sound and its interactions with interdisciplinary multimedia & performance can serve as productive vectors for communicating the often-invisible "slow violence" of global environmental change. Sound, as a continuous and ever-changing profile of material processes embedded within the ecological and cultural make-up of a given place, provides a visceral experiential lens into local manifestations of global environmental issues and the contested nature of space in today's world. By probing (dis)connections between the local and global, Ginsburg seeks to create work that exposes humans' fraught relationships with natural and ecological worlds under capitalism. Especially compelling to them involves highlighting what Anna Tsing calls the "unruly edges" of our local environments, along "the seams of imperial space, where we cannot ignore the interspecies interdependencies that gives us life on earth."2 Ginsburg explores these geographies of experience through sound maps and audio-video installation art—synthesizing field recording, archived sound, composed materials, environmental data, and ethnography, this interdisciplinary approach combines methods and tools from acoustic ecology, environmental studies, anthropology, soundscape composition, and instrumental performance.
Ginsburg has been a resident artist fellow at Atlantic Music Festival (Colby College) and nief-norf Festival of Contemporary Music (University of Tennessee-Knoxville). Recent highlights include performances at the Los Angeles County Museum of Art, University of California-Los Angeles, California Institute of the Arts, and solo and co-produced exhibitions for Pando Populus (Pasadena, CA), video & multimedia artist Kat Parker, and the CalArts WaveCave. They are a recent graduate of the MFA program at California Institute of the Arts, where they studied horn performance, composition, and sound art practice as a Lillian Disney Scholar. A two-time graduate of Oberlin College-Conservatory of Music, they received a B.A. in Environmental Studies and B.M. in French Horn Performance in 2019. Ginsburg is currently based in Los Angeles.