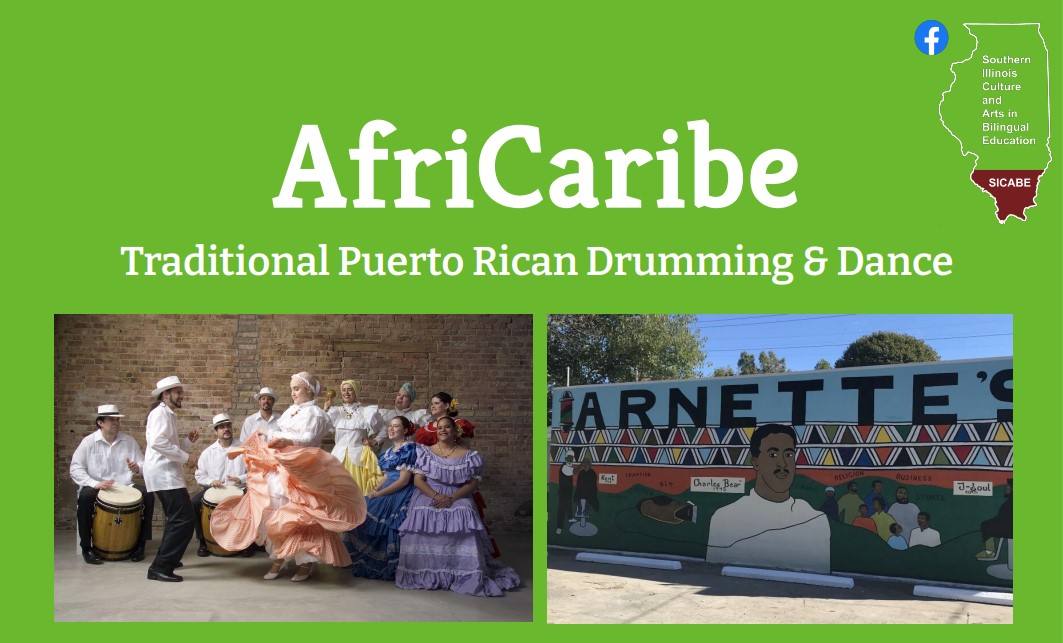 AfriCaribe Performances at Carbondale Halloween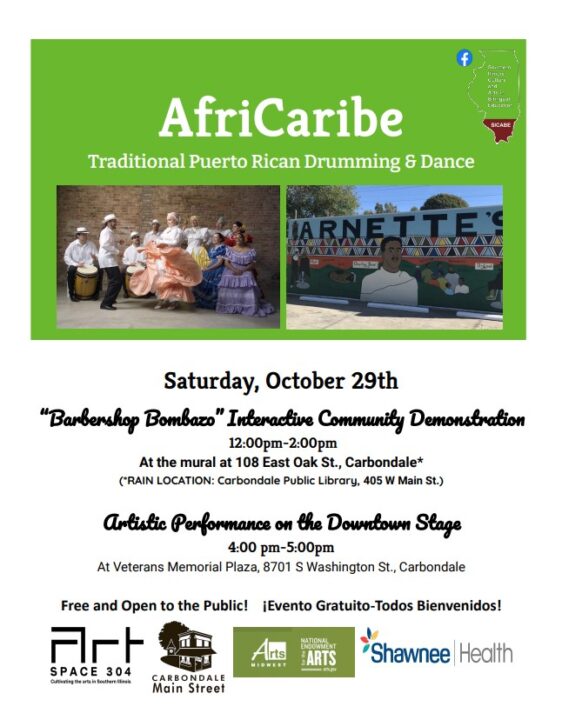 We're partnering with Arts Midwest and SI CABE (Southern Illinois Culture & Arts in Bilingual Education) to bring an interactive demonstration and performance by AfriCaribe! Learn about music and dance traditions of the African Diaspora, the Caribbean, and Latin America at two events on Saturday, October 29.
First, participate in a Barbershop Bombazo from 12-2pm outside of Arnette's Barbershop (108 E Oak) on Saturday, October 29 (rain location: Carbondale Public Library). A Bombazo is a traditional gathering of song, dance, and drumming (Bomba) that builds community. The Barbershop Bombazo will also feature special guests from SIWADE: Southern Illinois Western Drum Ensemble.
In the evening, head to Veterans Memorial Plaza for an exciting outdoor performance from 4-5pm.
Thank you to AfriCaribe, Arts Midwest, the National Endowment for the Arts, Carbondale Main Street, Shawnee Health, and supporters of Carbondale Halloween for helping bring this experience to the community!
About AfriCaribe
Created in 2000 by Evaristo "Tito" Rodriguez, AfriCaribe is a nonprofit organization dedicated to the preservation, research, promotion, and development of the Puerto Rican and Caribbean cultures through music, dance, theater, and other artistic media, with a main focus on the African Diaspora, the Caribbean, and Latin America. Recent performances include Chicago Park District's Night Out in the Parks series, World Music Festival Chicago, and monthly bombazos at their Center for the Study of Afro-Puerto Rican and Caribbean Identity, a landmark space of community arts education in the heart of the Humboldt Park community.